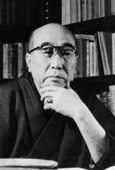 EDOGAWA Rampo (江戸川 乱歩)
author
Edogawa Rampo (pseudonym of Hirai Tarō, 1894–1965) is the acknowledged grand master of Japan's golden age of crime and mystery fiction. In the early part of his career, he created the Japanese gothic mystery, developing the work of Edgar Allan Poe and related nineteenth century writers in a distinctly Japanese form.
(more…)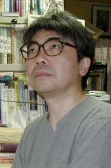 ASAMATSU Ken (朝松 健)
author; editor
Born in 1956 in Sapporo, Hokkaido. Graduated Toyo University to work at Kokusho Kankōkai, famous in Japan as the publisher of Lovecraft and many other works of horror and fantasy. Debut work as an author was Makyō no Gen'ei (Echoes of Ancient Cults), in 1986. He continues to be active in a wide range of activities, including writing extensively in the weird historical and horror genres. While remaining extremely interested in the Cthulhu Mythos, lately he has been concentrating on weird historicals set in the Muromachi period (1333-1573).
(more…)

MAYUMURA Taku
author
Mayumura Taku (real name: Murakami Takuji) is probably best-known in Japan for his juvenile science fiction, such as Nazo no Tenkōsei [Mysterious Transfer Student; 1967], Maboroshi no Pen Friend [Phantom Penpal; 1974] and Nerawareta Gakuen (The Stalked High School; 1976). Many of his works have been produced in visual media, including film, made-for-TV movies, and animations. In addition, he has written some two thousand "short-short" stories, and has established himself as one of the most prolific authors in Japan.
(more…)
Born in Nagoya, Japan in 1950. Graduated Meiji University in Economics. Debut in 1974 with Kamigari. Won Kadokawa Award in 1977 with Kamigami no Maisō, and Nihon SF Taisho Award in 1982 with Saigo no Teki. Has authored over 140 works covering a wide range including SF, adventure, general fiction, police/mystery, and fantasy.
(more…)