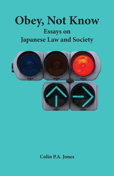 Obey Not Know
Essays on Japanese Law and Society
Like many things Japanese, the Japanese legal system has its peculiarities... and Professor Jones applies his decades of legal and teaching experience to shed light on its mysteries. As with most legal systems there is method to its madness, and while the reasoning behind it all is a bit different from the approaches of Western nations, it works. Usually.
(more…)
On the Brink: The Inside Story of Fukushima Daiichi
Professor and Director, Nuclear Engineering, University of Idaho
March 11, 2011.
The Tōhoku earthquake struck just before three on a Friday afternoon. Massive earthquake damage was followed by tsunami rising to heights of 40 meters that swept 10km inland, scouring the land of homes, schools, communities, and people.
The earthquake and tsunami alone were disasters of incredible proportion, resulting in over 15,000 deaths, over 100,000 buildings destroyed, and economic losses estimated as high as $235 billion by the World Bank.
And that was only the natural disaster.
(more…)
The Nobility of Failure
Tragic Heroes in the History of Japan
by Ivan MORRIS
Preface by Juliet Winters Carpenter
Alexander, Robin Hood, Wellington, George Washington... The Western literatures are packed with the stories—real and otherwise—of diverse heroes, but most of them share the common element of victory. Many of them died heroically to achieve their goals.
In Japan, however, many of the most revered heroes lost their lives without achieving their goals, and in many cases fought their battles in full realization that they would end in abject defeat and death.
This cultural background remains a bedrock underlying the modern Japanese psyche, and continues to shape the Japanese as individuals and a society even today, unconsciously, in the same way the West is still affected by the myths and legends passed down from Greece and Rome.
(more…)
Hanatsumi Nikki
The Flowers of Italy

Translated with an introduction by
Susanna FESSLER
Masaharu Anesaki (1873-1949) was a leading member of Japan's most interesting generation: the second generation of Meiji scholars, who lived in a highly-educated if not rarefied world that blended Japanese and Western traditions in a way that made them unique in their country's long history.
This neglected classic of travel writing, philosophy, history, and comparative religion has been out of print in Japan for nearly a century. Its publication in English translation will open a fascinating vista for scholars and general readers, into the mind of modern Japan — as it stood at the crossroads of modernity.
(more…)
Japan in Five Ancient Chinese Chronicles:
Wo, the Land of Yamatai, and Queen Himiko
For the first time in English, this work presents a comparative study of the content of famous Chinese historical texts that are fundamental in the knowledge of Japan's ancient history. Soumaré translates documents from the Chronicle of the Wei to the History of the Song, thus providing an unparalleled resource for scholars, students, and general readers with an interest in Japanese history and culture.
Japan in Five Ancient Chinese Chronicles is a stimulating and valuable investigation into the earliest periods of Japanese recorded history. Archaeological finds from Japanese tombs can be better understood by combining Japanese historical resources such as the Kojiki and the Nihonshoki with precise dating of the Chinese dynastic histories. Massimo Soumaré's original research sheds new light on formerly obscure aspects of intercultural exchange, and contributes to our knowledge of the whole of Eastern Asia.
(more…)
Herbert A. Giles and China:
Two Early Classics of Modern Sinology
Modern sinology--the study of things Chinese--may trace its roots back centuries to Marco Polo, Byzantium and even Imperial Rome, but to a great extent it was built on foundations laid and extended by Herbert Giles, a consul for the United Kingdom in China and later a professor at Cambridge University. Even after his 26-year tour in China was completed and he returned to his native England, he continued to author a large number of scholarly works and translations on China and the Chinese.
Two of these, Chinese Sketches (1876) and The Civilization of China (1911), are now available in a single volume, revealing once again his piercing observations and a glimpse of a very different China.
(more…)
Kuunmong:
The Cloud Dream of the Nine
Kuunmong - literally "Nine Cloud Dream" or "The Cloud Dream of the Nine" - has been an immensely popular work in Korea for centuries. Originally written in about 1689, it is hailed as one of the earliest works of literary prose fiction to emerge from the Korean cultural background. Although this classic novel remains in print in many editions in Korea, China, and Japan, it has long been out of print in the English language. We are proud to make this monumental work available again.
In addition to the complete text translation by James S. Gale, Susanna Fessler of the State University of New York at Albany provides an introduction to the novel, and Francisca Cho of Georgetown University contributes a detailed literary analysis of the work. We also reproduce the original introduction and notes, and numerous illustrations, from the first English edition of the Gale translation.
(more…)