The Red Star of Cadiz
The Red Star of Cadiz

Translated by Usha JAYARAMAN
Ōsaka Gō: A Japanese author deeply in love with Spain, guitars and flamenco
Kurodahan Press is proud to present the first English translation of "Red Star of Cadiz," an international suspense thriller that won author Osaka acclaim as a new master of the genre in Japan. The work has won three prestigious awards: the 96th Naoki Prize, the 40th Mystery Writers of Japan Award, and the 5th Japan Adventure Fiction Association Prize. The perfect hard-boiled introduction to Japanese crime and suspense fiction!
Spain was still under the domination of the Franco dictatorship in 1975, and Japan itself harbored fears of terrorism by the radical left.
Freelance public relations expert Urushida Ryō is asked by one of his major clients, Hino Musical Instruments, to help locate a man sought by famous Spanish guitar craftsman Jose Ramos: a Japanese guitarist known as Santos, who had visited Ramos' workshop twenty years earlier. In spite of his outstanding guitar technique, it had proved impossible to find him in Japan's flamenco guitar world. Urushida begins to trace Santos' footsteps from the scarce leads remaining…
Ōsaka draws heavily on his own experiences in the advertising industry to portray the intense competition surrounding advertising agencies and their musical instrument manufacturing clients, as well as behind-the-scenes deals with consumer action groups. The story delves into the secrets surrounding the "Red Star of Cadiz," a legendary guitar created by a master craftsman during the Spanish Civil War, and the desires and losses of the people around it. And as Urushida pursues Ramos' granddaughter Flora and Paco, whom he suspects is Santos' son, he is gradually pulled in a vortex of intrigue involving the Spanish ultra-left and secret police.
Multiple story lines intersect, doubling back on one another and weaving a rich tapestry of memories, including Urushida's love for Risayo, at a rival PR firm; the activities of the staff at Urushida's agency; and the search for Santos, that began as a simple and heartwarming request. The action shifts to Spain and accelerates, drawing the reader into a gripping story all the more real for the stunning visual imagery of Spain, and instilling a newfound love for flamenco guitar.
The book includes an introduction of the author and his works by Japanese literary critic IKEGAMI Fuyuki, and a foreword by Dr. Amanda Seaman (U. Mass. Amherst), author of Bodies of Evidence: Women, Society, and Detective Fiction in 1990s Japan.

The Red Star of Cadiz, or Kadisu no Akai Hoshi in Japanese, is published by Kōdansha. The photo on the cover of the version we used in this translation, the 5th printing, is by the author.
---
Reviews
This award-winning author of suspense thrillers is an obvious admirer of the hardboiled school of Raymond Chandler. You will find in his work the same fast-paced plots and surprises, a vast array of both likeable and unsavoury characters, and many self-deprecating jokes and smart quips from the main protagonist. The combination of humour—for instance, there's the running gag about Urushida being abandoned by his supposed allies—and deadly serious action is not an easy one to pull off, but Ōsaka does it with aplomb."
—Maria Sofia, Crime Fiction Lover
---
Details:
xvi + 431 pages
Trade paperback 6" x 9 (152 mm x 228 mm)
ISBN 978-4-902075-24-3
Cover image by Pablo Avanzini
---
---
About the author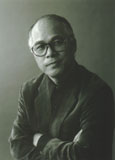 ŌSAKA Gō was born in 1943, graduating from the law department of Chuo University in Tokyo in 1966. He joined advertising firm Hakuhōdō, writing on the side, and won the All Yomimono New Mystery Writers Prize in 1980 for his "The Assassin Dies in Granada." In 1987 he won the 96th Naoki Prize and other prestigious awards for "Red Star of Cadiz," firmly establishing his position in the mystery world. He loves everything having to do with Spain (including playing flamenco guitar himself), and often sets his works there. His fascination with the Spanish Civil War has led him to write a number of layered masterpieces linking events of the period with present-day Spain and Japan, establishing a following for his hard-boiled characters, intricate plotting and humor.