Yoshiyuki Junnosuke: Fair Dalliance
Fair Dalliance: Fifteen Stories by Yoshiyuki Junnosuke
This collection has come into being out of the conviction that the short stories of Yoshiyuki Junnosuke, if they were made accessible in English under one cover, would certainly be appreciated and enjoyed abroad as they have been in Japan. The prolific Yoshiyuki Junnosuke has left us a vast body of literature, a feast of short stories, novels, novellas, essays on a wide range of topics, translations from English, and light fiction whose function is simply to entertain. An edition of his complete works published in 1983, eleven years before death stilled his pen, came to 20 volumes.
In the preface to New Writing in Japan, Mishima Yukio says of Yoshiyuki: "The delicacy of Yoshiyuki's language and sensibility is probably more subtle and sophisticated than that of any Japanese writer since the war...The idée fixe of Japanese youth today—that love is impossible and impracticable—lies deep at the root of Yoshiyuki's thinking."
His elegant prose style is often likened to that of Albert Camus. Howard Hibbett said of Yoshiyuki (in Contemporary Japanese Literature: an Anthology of Fiction, Film and Other Writing Since 1945): "The cool, polished surface of his fiction faithfully reflects a world of mingled frivolity and futility... The urbane refinement of his astringent prose style is much admired."
This book deals with explicit sensual and sexual themes and is inappropriate for minors.
Contents
My Bed Is a Boat (Nedai no fune)
Japanese Handball (Temari)—with Hiroko Igarashi
On Houses (Kaoku ni tsuite)
The Man Who Fired the Bath (Furo taku otoko)
Perfume Bottles (Kōsuibin)—with Hiroko Igarashi
The Illusionist (Tejinashi)
Hydrangeas (Ajisai)
I Ran Over a Cat (Neko funjatta)
Something Unexpected (Fui no dekigoto)
Three Dreams (Yume mittsu)
Twins (Sōsei)
A Certain Married Couple (Aru fūfu)—William Matsuda
The Flies (Hae)
The Battle of the Clays (Nendo gassen)
Katsushika Ward (Katsushika)
All translations by Lawrence Rogers except as indicated.
---
Details:
Pages: xxiii + 179
Trade paperback 5" x 8" (127mm x 203mm)
ISBN: 978-4-902075-39-7
Cover: "Fireworks IV", by Kyōsuke Tchinai
---
---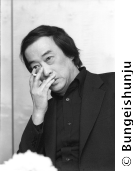 Yoshiyuki Junnosuke was born in 1924, entering Tokyo University in 1945 to major in English literature. His first novel, Bara Hanbainin, was published in 1949. His novel Genshoku no Machi was nominated for the Akutagawa Prize in 1952. Other novels include Shūu (Akutagawa Prize) and Hoshi to Tsuki wa Ten no Ana (Grand Prix, Minister of Education Awards). The Dark Room (Anshitsu), his first novel to be translated into English, appeared in 1970 and received the prestigious Tanizaki Prize. Yoshiyuki also translated material into Japanese, including stories from Henry Miller's Nights of Love and Laughter and Insomnia or The Devil at Large.
---
Lawrence Rogers is emeritus professor of Japanese at the Hilo campus of the University of Hawai'i, and editor of the anthology Tokyo Stories: A Literary Stroll, recipient of the 2004 translation award from the Donald Keene Center of Japanese Culture, Columbia University.

Hiroko Igarashi teaches Japanese at the University of Hawai'i Hilo campus.

William Matsuda is a Ph.D. candidate at the University of Hawai'i at Manoa currently doing research in Kyoto, Japan.
---
Donald Richie, author and editor, first arrived in Japan in 1947 as a film critic for the Pacific Stars and Stripes, and after graduating Columbia University returned to Tokyo as a film critic for the Japan Times. After a brief stint as Curator of Film at the New York Museum of Art in 1968, he returned to Tokyo and has lived there since.
Described by TIME magazine as "the dean of Japan's arts critics," Richie is a regular contributor to the Japan Times 'Asian Bookshelf' and has written a number of incisive books including The Films of Akira Kurosawa, and A Hundred Years of Japanese Film: A Concise History.
His survey of Japanese literature through the ages, Japanese Literature Reviewed (2003), received excellent reviews, and as scholar J. Thomas Rimer noted in the introduction, is "A virtual cornucopia of observation and comments on the entire range of Japanese literature."
---
Kyōsuke Tchinai (智内兄助) was born in 1948 in Ehime, Japan. In 1966, he graduated from Imabari-Nishi high school, and entered the National University of Fine Arts. He received several distinguished awards including The Prize for Excellence at the young Japanese Painters' Exhibition, 1988 and The Yasui Award, 1991. From 1981 onwards, he participated in large group exhibitions (The Cleveland Biennial, USA; the Ueno-no-Mori Grand Prix Exhibition, Japan; the Yasui Award Exhibition, Japan). Since 1983, several big solo exhibitions have been organized in prestigious settings: Tokyo Central Art Museum, The Kitakata Museum, Japan; The Kuma Museum, The Nakata Museum, 2003, Takashimaya and Ehime Fine Arts Museum, 2007, which received over 25,000 visitors. In 2000, he signed an exclusive worldwide contract with the Tamenaga Gallery, which has already organized two solo exhibitions in their Paris gallery, 2002 and 2004. The works of Tchinai are kept in many Japanese museums (Aichi, Imabari, Saitama, Kariya, etc.) as well as in prestigious private collections, where that of Baroness Ariane de Rothschild holds a predominant place.
The work used on the cover is "Fireworks IV" (経華 第四).