Hanmura Ryo: The Sheltering Rain
A diverse cross-section of Japan passes through the bar Rui, and the bartender tends to them all, with all their hopes and their fears. Underneath the black suits—whether crumpled or designer—and the cosmetics, they're all people on the way to somewhere else in Tokyo's glittering boom era.
Winner of the 1975 Naoki Prize.
Amayadori (雨やどり) originally appeared as a series of short stories in various magazines from 1973–74, later compiled into this book as Amayadori, with the subtitle "Shinjuku baka monogatari," which could be roughly translated as "Tales of Shinjuku naifs." Written while Japan was close to the peak of the post-War economic boom, Hanmura captures the "economic animals" of Japan, and the countless men and women in their periphery who kept the bars and cabarets running all night long to let them blow off steam.
Japan of the 21st century is vastly different, and Hanmura's depiction of a very different era is still popular among those who fondly remember "the way it used to be." While the settings have changed and smartphones provide new modes of interaction, the same archetypical salesmen, bartenders, and bargirls still haunt the night spots of Tokyo, searching for something better.
An extremely prolific author, Hanmura was active in science fiction, fantasy, and horror genres. A short story of his, "Cardboard Box" (ボール箱), is available in the Speculative Japan anthology.
The cover of the first edition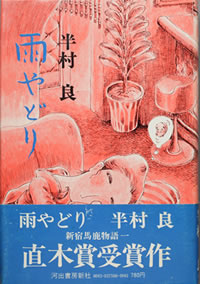 , published in 1975 by Kawade Shobo Shinsha Ltd.
---
---
Details
Pages: Pending
Trade paperback 5" x 8" (127mm x 203mm)
ISBN: 978-4-909473-50-9
List Price: Pending
Cover: Pending
Scheduled for publication in spring 2019
---
About the author
Hanmura Ryō (半村 良; 1933 - 2002) is the penname of Kiyono Heitarō (清野 平太郎). He won the first Izumi Kyōka Prize for Literature for his novel 産霊山秘録 (Musubi no Yama Hiroku) in 1973. He won also the 1972 Seiun Award, and the 1988 Nihon SF Taisho Award. His novel 戦国自衛隊 (Sengoku jieitai) was released as a film in the West in 1979 under the name GI Samurai.