Hanmura Ryo :: The Sheltering Rain
A diverse cross-section of Japan passes through the bar Lui, and the bartender tends to them all, with all their hopes and their fears. Underneath the black suits—whether crumpled or designer—and the cosmetics, they're all people on the way to somewhere else in Tokyo's glittering boom era. The bartenders and Mama-sans who keep everything running smoothly rely on their own camaraderie, night after night.
Winner of the 1975 Naoki Prize.
Amayadori (雨やどり) originally appeared as a series of short stories in various magazines from 1973–74, later compiled into this book as Amayadori, with the subtitle "Shinjuku baka monogatari," which could be roughly translated as "Tales of Shinjuku naifs." Written while Japan was close to the peak of the post-War economic boom, Hanmura captures the "economic animals" of Japan, and the countless men and women in their periphery who kept the bars and cabarets running all night long to let them blow off steam.
Japan of the 21st century is vastly different, and Hanmura's depiction of a very different era is still popular among those who fondly remember "the way it used to be." While the settings have changed and smartphones provide new modes of interaction, the same archetypical salesmen, bartenders, and bargirls still haunt the night spots of Tokyo, searching for something better.
An extremely prolific author, Hanmura was active in science fiction, fantasy, and horror genres. A short story of his, "Cardboard Box" (ボール箱), is available in the Speculative Japan anthology.
The cover of the first edition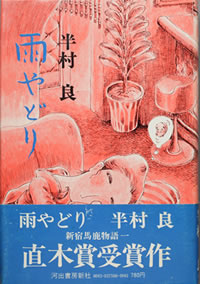 , published in 1975 by Kawade Shobo Shinsha Ltd.
---
Reviews
Hubbert's brief introduction sets the scene nicely, depicting a district on the cusp of change. Japan's economic boom is in full swing and land prices are soaring, so while the old post-war order is still intact, danger is visible on the horizon, with the small independent bars under threat from big businesses looking to muscle in and make a quick profit. The Sheltering Rain is a series of snapshots of the last days of a way of life about to disappear, Hanmura's homage to what he senses is about to vanish. ... if you like stories that create a sense of place and mood, it's a book you'll surely enjoy. The many links between the sections reflect the way the lives of the Shinjuku night folk interconnect, and in a way, Hanmura is acting more as a social historian than a writer, recounting the last days of a fading Empire...
Tony Malone—Tony's Reading List
---
Details
Pages: 177 + ix
Trade paperback 5" x 8" (127mm x 203mm)
ISBN
Softcover: 978-4-909473-50-9
Ebook: 978-4-902075-88-5
Cover: Johnny Wales
---
Book Depository (free shipping worldwide, including Japan)
---
About the author
Hanmura Ryō (半村 良; 1933–2002, penname of Kiyono Heitarō, born in Tokyo's Katsushika Ward, spent thirty years moving from job to job, including manning reception desks at love hotels and bartending in cabarets. He debuted as an author in 1962, but was little heard-from until 1971, when his Seiun Award-winning novel Ishi no Ketsumyaku (Veins of Stone) reintroduced him as a pioneer in the denki shōsetsu subgenre of dark, often historically based fantasy. In 1975, he became the first SF author to win the Naoki Prize, with this title. Throughout the 1970s, he produced new works at a furious pace, and continued writing SF, fantasy, and historical novels until 2001, earning the Nihon SF Taishō Award in 1988 and the Shibata Renzaburō Prize in 1993. His novel 戦国自衛隊 (Sengoku jieitai) was released as a film in the West in 1979 under the name GI Samurai.