Edogawa Rampo: The Early Cases of Akechi Kogoro
Edogawa Rampo: The Early Cases of Akechi Kogorō
Akechi Kogorō, detective extraordinaire.
In Japan, this is a name that fires the hearts and imaginations of readers young at heart. Cool and sophisticated, Akechi moves effortlessly through the world of Japan in the golden era between the wars, defeating masterminds and saving the day. He has been the hero of Japanese children for generations, and starred in a host of movies.
The stories in this volume predate all of that; his secret origin, if you will. Readers familiar with the exploits of the great detective Akechi Kogorō might have some difficulty recognizing the impeccably dressed and universally respected man of action in the amateur detective, an eccentric twenty-something of little means with disheveled hair and a shabby kimono. The Akechi who appears in this volume is a hobbyist in crime whose identity is not yet fixed either in the eyes of the reading public or in the mind of his creator. Supporting characters such as Akechi's wife and his young assistant have not yet been introduced, and the first confrontation between the great detective and the Fiend with Twenty Faces is still a decade away.
Rampo initially conceived of Akechi Kogorō only as a protagonist for 'The Case of the Murder on D___ Hill,' never intending to make further use of the character, but the positive reactions of Rampo's friends and colleagues prompted him to make Akechi a recurring protagonist in his detective fiction. The first five Akechi mysteries, 'The Case of the Murder on D___ Hill,' 'The Psychological Test,' 'The Black Hand Gang,' 'The Ghost,' and 'The Stalker in the Attic,' were all published in the first half of 1925 as part of Rampo's first serial for Shin-Seinen magazine.
And now they are available in English as well, to delight a new audience!
Includes:
The Case of the Murder on D Hill 「D坂の殺人事件」
The Black Hand Gang 「黒手組」
The Ghost 「幽霊」
The Dwarf 「一寸法師」
As published in 「江戸川乱歩全集」 (30 vols. Tokyo: Kōbunsha, 2003-6)
Edogawa Rampo (pseudonym of Hirai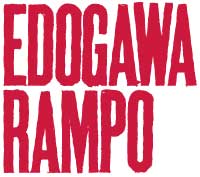 Tarō, 1894–1965) is the acknowledged grand master of Japan's golden age of crime and mystery fiction. He is also a major writer in the tradition of Japanese Modernism, and exerts a massive influence on the popular and literary culture of today's Japan.
---
Reviews
There's a very vivid imagination on display in Rampo's early Akechi-stories, and some creative criminal ideas. These do veer towards the absurd, but with enough charm to continue to exert considerable fascination; if some of the twists (upon twists ...) come to seem a bit silly, they are still fun. It's fascinating to watch Rampo begin to develop his own style, clearly modeled on the stories of Arthur Conan Doyle and Edgar Allan Poe, and they are already solid little works.
—MA Orthofer, Complete Review
All four stories ... were written towards the beginning of Ranpo's career. As is noted in the introduction, Ranpo largely wasn't very happy with them. [...] Overall, the included mysteries are still enjoyable but somehow not quite as compelling as many of Ranpo's other tales. He would, however, reuse, rework, and refine many of their elements in subsequent writings. [...] I enjoyed [it] a great deal specifically because it provides a glimpse of the earliest incarnations of Ranpo's great detective.
— Ash Brown, Experiments in Manga
---
Details
Pages: xx + 201
Trade paperback 5" x 8" (127mm x 203mm)
ISBN: print 978-4-902075-62-5, ebook 978-4-902075-29-8
Cover: Mike Dubisch
---
---

William Varteresian is a translator currently living just outside of Boston, Massachusetts. He is a lover of weird tales and detective fiction, especially of the early twentieth century, and hopes to make more of Japan's distinguished history of imaginative and bizarre tales accessible to Western readers.






---
Also by Edogawa Rampo at Kurodahan Press:
Edogawa Rampo's The Fiend with Twenty Faces
—A Tale of the Boy Detectives Club