Edogawa Rampo: Gold Mask
Gold Mask is Edogawa Rampo's sixth novel featuring detective Akechi Kogorō, as he investigates the crime spree of the uncanny costumed "Gold Mask." Lovers of crime fiction will be delighted to discover that this resourceful thief, confounding Akechi's every move, is none other than Maurice Leblanc's famous "gentleman burglar," Arsene Lupin! Given Lupin's obvious influence on Rampo's own Fiend with Twenty Faces, this work serves as a fascinating precursor to his Boy Detectives series, and marks another major step in the development of Japanese detective fiction in the period between the Wars.
The novel was originally published as a newspaper serial in 1930-31, and has since been collected and released by a variety of publishers, including a revised children's edition from Poplar as part of the Boy Detectives series and in the definitive Kōbunsha edition of Rampo's complete works, on which this translation is based.
As published in 「江戸川乱歩全集」 (30 vols. Tokyo: Kōbunsha, 2003-6)
Edogawa Rampo (pseudonym of Hirai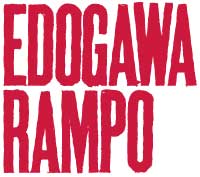 Tarō, 1894–1965) is the acknowledged grand master of Japan's golden age of crime and mystery fiction. He is also a major writer in the tradition of Japanese Modernism, and exerts a massive influence on the popular and literary culture of today's Japan.
---
Details
Pages: xix + 219
Trade paperback 5" x 8" (127mm x 203mm)
ISBN
Softcover: 978-4-909473-06-6
Ebook: 978-4-909473-07-3
Cover: Mike Dubisch
---
---

William Varteresian is a translator currently living just outside of Boston, Massachusetts. He is a lover of weird tales and detective fiction, especially of the early twentieth century, and hopes to make more of Japan's distinguished history of imaginative and bizarre tales accessible to Western readers.






---
Also by Edogawa Rampo at Kurodahan Press:
Edogawa Rampo: The Early Cases of Akechi Kogoro
Edogawa Rampo's The Fiend with Twenty Faces
—A Tale of the Boy Detectives Club